Loading bay control:
Efficient. Transparent. Simple.
Reduces pass-through time
Reduces load peaks
Enables booking of optimal loading times
Supports optimization of ressource planning
Facilitates the medium-term control of capacities
Management of time slots and loading bays with flow Slot
Freight forwarders consider both reducing of lead times and minimization of standing and wating times of great importance. In order to reduce loading peaks and as a consequence thereof to optimize the distribution of loadings per time slot, industry and commerce have to control their loading bays in an efficient and economical way. For this purpose, flow Slot offers the following functions stand-alone or highly integrative within flow:
Benefits for on-site logistics, freight forwarders, logistics providers and customers
Improved utilization and repartition of loading bay ressources for freight forwarders, plant logistics and carriers
Optimized provision of goods to be loaded
Reduction of standing and waiting times for vehicles
Status updates and control without many manual operations
Real time transparency over the current situation at the loading bays and deviations concerning the scheduling
Quick adjustment of capacities in case of bottlenecks or overruns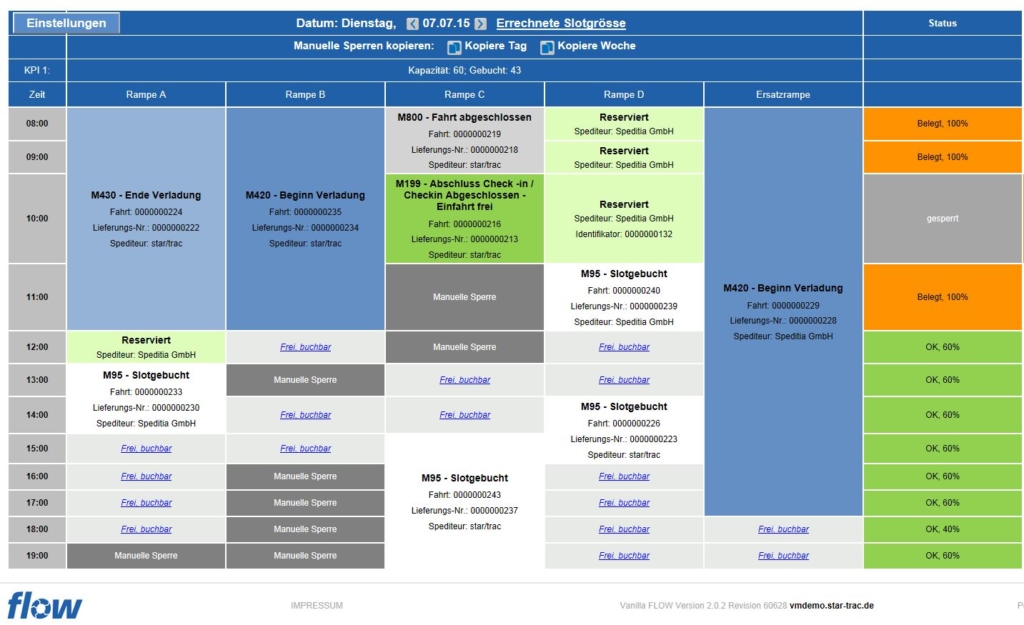 You want to learn more about star/trac and our products?